How to Make Choice Between DIY Rosin Presses and Complete Rosin Press Machines
Posted by DABPRESS TEAM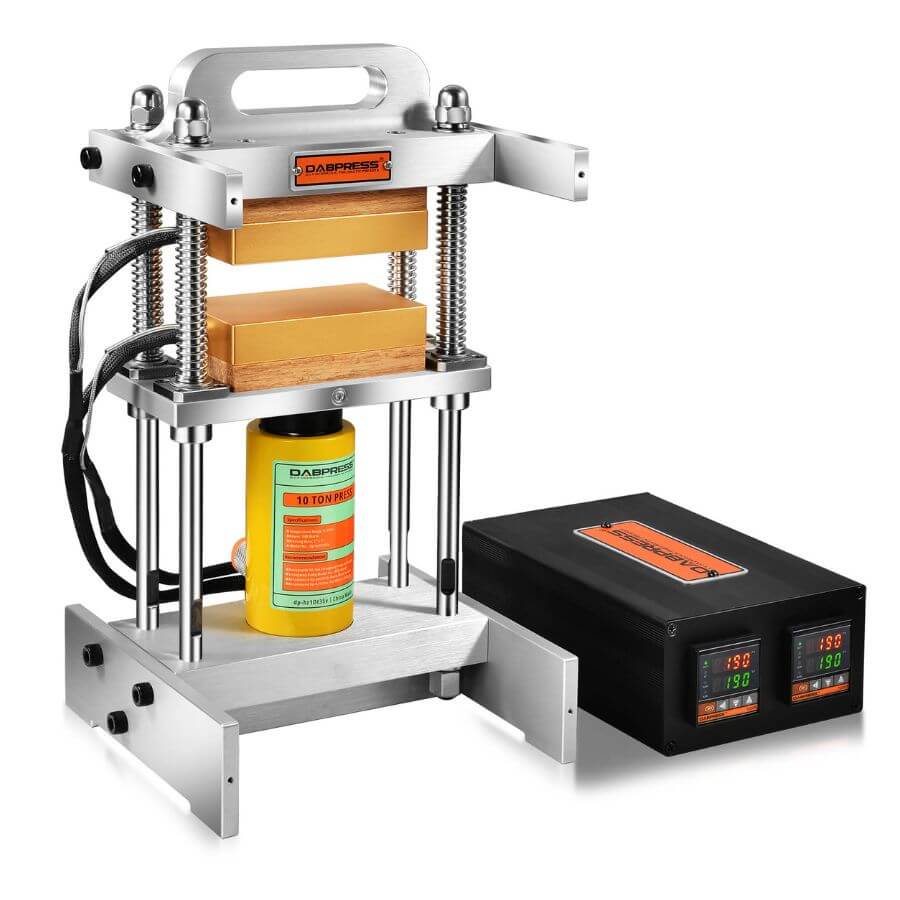 How to Make a Choice Between DIY Rosin Press and Complete Rosin Press Machine
Question from Starters:
Would these 3x5" $229 uncaged plates be compatible with a 6-ton shop press? or do you have to use 12 tons? just wondering because I'm planning on getting one of the press plate kits sometime in the near future & a hydraulic shop press to add them to.
I've never built anything like this before, but from what I researched, it seems like a more affordable way to be able to own a quality press & achieve maximum yield/quality vs. buying a pre-assembled small press.
I *was* planning to get something like a ''RosinTech GO'' or some other ~$400 smaller press, but I've since researched & had people tell me to either get a much more expensive one or to just get plates & shop press and build it myself.
They said with only 700lbs PSI [rosintech go] I would likely sacrifice around half the yield I would get with a better quality press/higher PSI.
Another key question I wanted to ask was how many grams are the $229/3x5" plates and the $189 3x3" plates able to press.
I think I read that the general rule is up to 2g flower per square inch.. again never done this so not 100% sure.
Answer from Customer Service:
3x5" uncaged press kit will be compatible with a 6-Ton A-frame hydraulic press. However, the bottom plate holder is not able to install since the 6-Ton press with a low profile. A 12-Ton H-frame hydraulic press is the better option.
If you have enough rooms and you don't wanna move it. I recommend making a setup, very durable and high-yield.
The equipment with high pressure helps yield, however, the experience of extraction is important to starters.
For a complete rosin press with $400 or up, I think everyone should do more research before buying. It is not a consumer of electric products, like the iPhone or Samsung, etc. Everyone hopes it serves us for several years. We are concerned about not only warranties but also maintenance. If the unit has not to need to return, just repair it yourself at home. It is the most feature to save money and time. I shouldn't comment on our competitors, but RosinTech Go must return for repair, it is not good enough, and you have to pay twice for shipping.
About the budget, 3x5" uncaged press kit plus a 12-ton hydraulic press from Harbor Freight: $229 + $129=$358 ( no pressure gauge included)
About your final question about how to pick up between 3x5" and 3x3" sized plates. I recommend picking up a 3x5" uncaged press plate kit. Please start bigger plates to avoid regrets for a small one.
Overall, I still recommend the Rosineers to make their own setup if you don't wanna move it or you don't care about Driptech Solventless extraction, and you have a place for the setup.
Thanks for reading.
Dabpress Team 
Collection 2019
Sale 70% Off
Title for image