Why Should I Buy Caged Cube Kit Instead of Plate Kit?
Posted by DABPRESS TEAM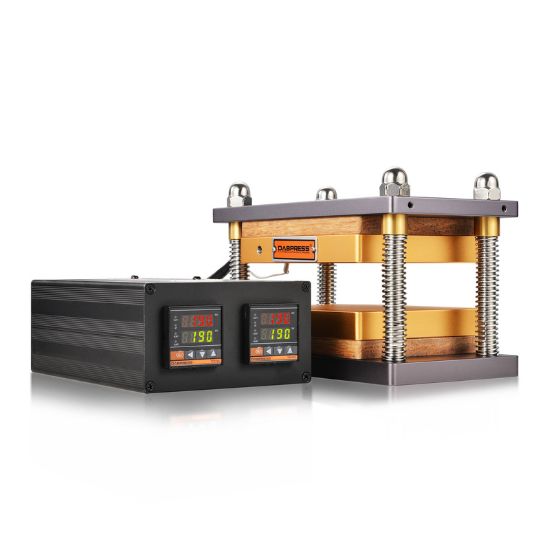 Why Should I Buy Caged Cube Kit Instead of a Plate Kit?
With the two different types of DIY Hydraulic and Pneumatic Rosin Press configurations, we offer a Caged Cube Kit and a Plate Kit.
The Caged Cube Kit is an advancement in design over the Plate Kit in a number of ways. 
A caged frame with top and bottom stainless steel plates, hardened bolts, bronze bushings, and heavy-duty steel springs encase the dual heated, fully anodized rosin plates.  This configuration is available in sizes ranging from 3x5" – 3x7" single pair plates, and also dual pair plates at 2.5x7".   All of the hardware in the caged frame is made of long-lasting, durable food-grade metals.  This is a solid construction ready for a lifetime of duty!
Because of the frame, the Caged Cube Kits are able to keep the plates in perfect alignment while operating your shop press.  The spring-loaded bolts that hold the Caged Cube kit together are the key to the proper alignment of every squish.  In contrast, a Plate Kit does not have this frame, so each time you are preparing your squish, you must make sure the plates are in perfect alignment.  Without the caged frame, it is possible misaligned plates can cause the parchment paper to crumble or tear or the buds can get pressed unlevel, which may hinder the extraction process.  Additionally, it's possible that the top plate which mounts to the ram through several bolts may come loose and no longer make flush contact with the plate below.  This will seriously hinder your extraction process and can also cause damage to your plates.
Your hands will be free to operate the shop press without needing to focus on the plate's alignment, or other needs focused on the plates.  The Caged Cube Kit will handle that so you are now available to attach magnets to pin your parchment in place or help navigate the flow of rosin off of the plates.  Less busy hands mean less stress!
Dual plate sets under one cage!  This is a marvelous way to have different plates run different strains under each individual plate set.  With a Plate Kit, this is not possible without some handy DIY manufacturing.  You would need two hydraulics, so this is a huge money saver and also requires less labor because you only need to operate one shop press to run 2 plates.
Somewhat of a minor advantage at first thought, the Caged Cube Kit doesn't have to be attached to the top ram, thus drawing less heat from the plates onto the press.  With the plate kit, there is no solid way to create an insulation barrier between these parts so you must deal with a less efficient DIY Rosin press.  With the Caged Cube Kit, you have a strong flat surface on top and bottom made of stainless steel in which you can rest or rest upon bamboo or other appropriate insulation.  In contrast, the Plate Kit can be applied to a customized DIY press configuration for the handy rosineer.
Overall, the Caged Cube Kit is the best option if you are looking for perfect alignment with consistently flush plates, and hands that can perform other duties like operating the shop press without worry. It will create a durable and solid DIY Rosin Press.  You can always choose a Plate Kit, but you will find that it is worth the money the upgrade to a Caged Cube Kit.
Choose perfect alignment and durability, choose Caged Cube Kit!
Collection 2019
Sale 70% Off
Title for image