Best Cheap Rosin Press of the Best Budget
Posted by CLAIRE CHE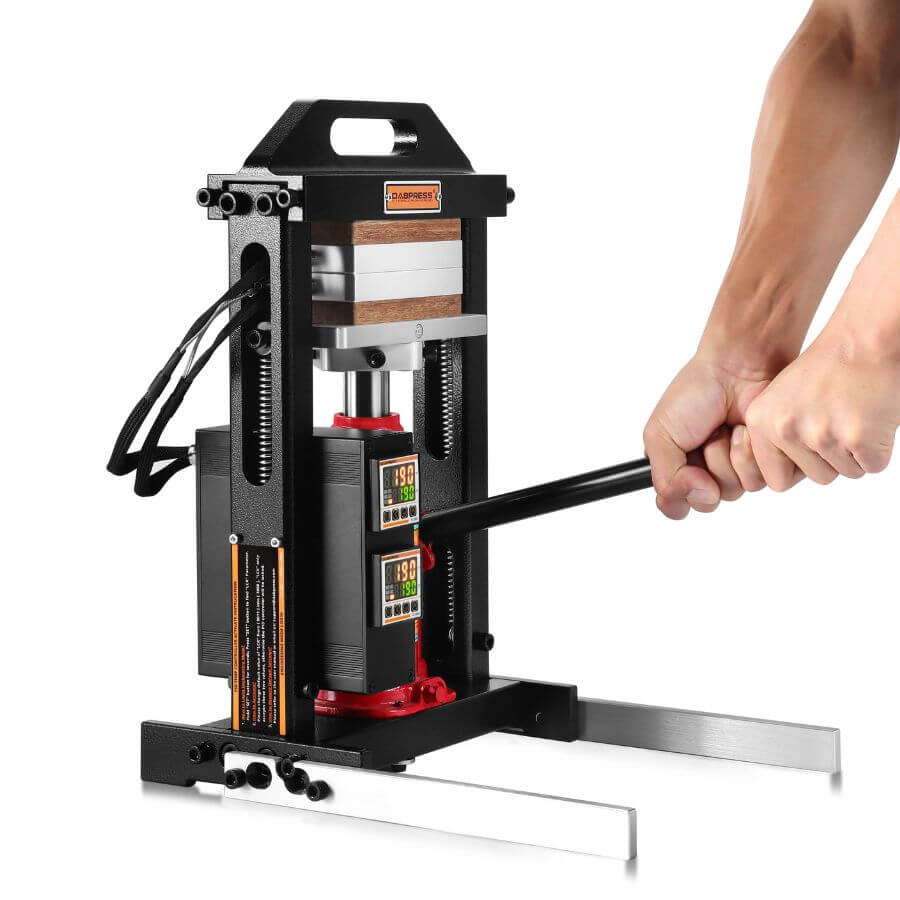 Best Cheap Rosin Press of the Best Budget
Before making a purchase, what will you concerned about?
- Affordable Price 
- Working Life 
- AfterSale Service
- An All-in-One Rosin Press or Build A Rosin Press by Yourself
- Performance of Rosin Press 
- How Much Pressure It Provides/Takes
- Honey Flavor 
- How Many Grams to Press
We do hope you won't make an impulse buy. Please think it over before purchasing.

The Start-to-Finish Guide to Buy A Rosin Heat Press Machine:
Option 1:
If there is enough space for you to be able to process cannabis extraction, building a rosin press by yourself is a better choice:
Budget: $249 - $300
- Accurate Temp Detected
- High Pressure to Maximize Yield
- Better Flavor Guarantee
- High Yield for Money Saving
- Easy Maintenance
- 1-Year Warranty 
- Food Grade 
Option 2:
If you have to squish weed in your apartment, an all-in-one rosin press is the better option.
How to choose between a manual rosin press, hydraulic rosin press, and electric rosin press?

How much pressure a rosin press delivers? - The optimal pressure range for pressing rosin is between 1,000 and 1,200 psi considering rosin bags used in practice.
A pre-press footprint of 2 sq/in for pressing needs at least REAL 2-ton pressure. so you have to exclude the manual rosin press in spite of the convenience it brings.

A Durable all-in-one rosin press under $400? It should be:
- Above 3 Ton Pressure - real pressure considering rosin bags used in practice
- Easy Maintenance - You won't pay the additional money aftersale
- Honey Flavor - Driptech prevents your dab oil from burning over again
- Long service - Easy to repair by yourself 
Dabpress 3-Ton Press All in One Rosin Press - Driptech Integrated 
- $399 on Sale
- Dual Heating 
- Single Pid Controller
- Free Shipping to Certain Country
Features:
- 3x3" Anodized Rosin Heat Plates - Well Suited to Squeeze Vertical Rosin Bags built of 3.5-7g Material for High Yield; Easy to Clean and Best Flavor Guaranteed. 
- Dual Heating with Single PID Temp Controller - Accurate Temp Delivered off One Platen Utilizing Separated Temp Probe and Rods.
- Perfect Alignment of Top and Bottom Heated Plates - Small Hydraulic Jack Rosin Press Made of Machined 6061 Aluminum, 3 Ton Bottle Jack, Stainless Steel, and Linear Bearings Guaranteed Bottom Platen Alignment Movement.
- Ideal 1,000 PSI Delivered - Paired with dp-pm3015r Cylinder Pre-press Mold and dp-bt160ns 2x4" Rosin Press Filters, Achieving and Maintaining 1,000 PSI Utilizing a Vertical/Upright Filter Build, and a Pre-press Footprint of 1.2 sq/in for Pressing.
- Driptech Integrated - The Drip Tech Rosin Press Stay with 45 Degree Angle Utilizing 2-Piece Aluminum; Prevent Rosin to be Bundt and Increase Pressure of Force.
Collection 2019
Sale 70% Off
Title for image